The winter conditions in West Virginia means there is snow and ice on the roads just about wherever you go. Are you prepared for it? Staying safe and out of a weather-related car accident depends heavily on knowledge and preparation. Check out these must-know winter driving safety tips before you next drive out into the cold.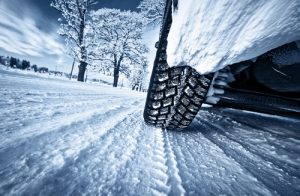 1. Notify others: First things first, tell people you trust about your travel plans, especially when your route is going through an unpopulated area. Your loved ones will be able to help direct emergency services in case you need help. You should also keep your smartphone charged and handy so you can call for help in an emergency.
2. Quick car prep: Cold air in your tire is dense, causing your tires to lose pressure, sometimes in a matter of hours. Check your tire pressure before you depart and make adjustments as needed. You should also keep your gas tank half-way full at all times, which helps stop the fuel line from freezing.
3. Up and downs: When going uphill in icy conditions, a higher gear will handle the situation better. When going downhill, a lower gear is the one to choose. Although, dropping your gear too low can cause dangerous drag. Be sure of what your car can handle and how.
4. Braking safely: On icy roads, slamming the brakes is a fast way to lose control of your car. Slowly and softly pump the brakes to come to the stop. This method may happen automatically if you have anti-lock brakes.
5. Beware bridges: Ice tends to form most prominently on bridges, which are colder due to being up in the air, or above water. Always use extra caution when crossing a bridge. Not seeing any ice does not mean there is no ice, though. "Black ice" is clear ice that forms on asphalt, making it virtually invisible to the naked eye. When in doubt and approaching a bridge, slow down to a safe speed.
Even with the best safety tips in mind, you never know when you will get into a car accident. You also cannot predict who might cause it. If you are hurt due to another driver's negligence while driving through the wintry weather, then come to Cranston & Edwards, PLLC and our Morgantown personal injury attorneys for help. With more than 50+ years of combined legal experience, we can confidently manage your claim from start to finish.
For a free case evaluation, you can call (304) 296-3500!