If you have been injured as a result of another person's negligence, you've probably been advised to hire a personal injury attorney. Despite the advice of others, you may still be wondering how a lawyer can actually help in your situation.
At Cranston & Edwards, PLLC, our personal injury attorneys have the legal acumen necessary to build a strong case. We understand what is needed to prove liability in an injury case, and recover the compensation you deserve.
OUR TEAM HAS OVER 50 YEARS OF COMBINED EXPERIENCE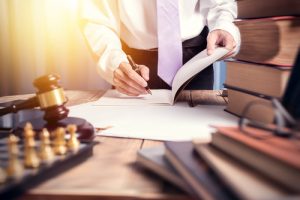 Our attorneys Paul R. Cranston and J. Bryan Edwards have over five decades of legal experience between them. We have represented many injury victims throughout the state of West Virginia, and understand the complex legal procedures involved in proving liability in these types of cases.
WE ARE PREPARED TO DO WHAT IS NECESSARY TO RECOVER COMPENSATION FOR YOU
Our experience in personal injury litigation has given us complete knowledge of the work that is needed to successfully build a case. When you hire the Cranston & Edwards, PLLC team to help with your case, we will do the necessary research, and are prepared to go to trial if necessary. Our firm has the resources to acquire medical records, police reports, witness and expert testimonials, and any other information that will help your case.
WE PROVIDE AN OUTSIDE, ANALYTICAL PERSPECTIVE ON YOUR CASE
From the point of view of an injured person, the liability of the at-fault party often seems obvious. However, third-party entities may not see it the same way. To build a comprehensive, fact-based case that proves the fault of the negligent party, consult our personal injury lawyers. We understand the strategies the defendant and their insurance provider will likely employ, and will evaluate the incident in that context to present the best evidence for your case.
WE OFFER FREE INITIAL CONSULTATIONS AND NO-COST SERVICES UNLESS WE WIN YOUR CASE
Contact Cranston & Edwards, PLLC to discover your options following an accident. Our consultations are completely cost- and obligation-free. We are available to discuss how we can assist in your specific case. If you do decide to hire us, we will not collect any payment unless we recover compensation for you.
Call (304) 296-3500 or contact us online to get started on your case today.