West Virginia has a growing heroin and prescription drug abuse epidemic and, with it, a surge of drugged driving arrests. Per data from the National Highway Traffic Safety Administration (NHTSA), West Virginia alone has some of the nation's deadliest drugged drivers. Statistics show there are 2.33 fatal drug-related car wrecks per 100,000 residents in West Virginia.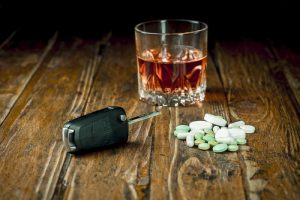 Drugged driving deaths have been steadily on the rise in West Virginia in recent years, due in no small part to the opioid epidemic. According to recent research published by the American Journal of Public Health in 2017, drivers found with prescription opioids in their systems at the time of death has risen from 1.0% to 7.2% in 20 years. Drugged driving accounts for at least 25% of DUI arrests in West Virginia, which is a huge increase from the 3.74% rate in 2011. The problem shows no signs of stopping, either.
One of the problems is that many think drug-impaired driving only encompasses illegal drugs, which isn't true. Prescription pills, including opioid drugs, can cause significant impairment. Compounding the problem, many of the individuals arrested for drugged driving are found with more than one substance in their systems. The opioids most commonly detected in drugged drivers' systems were oxycodone, morphine, and codeine, but more than two-thirds of those who tested positive for prescription opioids also tested positive for another drug. The most common drugs used with opioids include cannabis (marijuana) and Xanax, and 30% were also intoxicated from alcohol. The evidence is clear: Addicts aren't waiting until they get home to get high. Heroin addicts, in particular, must keep a regular "dosing" schedule to avoid going into withdrawal.
WHAT IS BEING DONE TO FIGHT DRUGGED DRIVING?
Opioid addiction devastates lives and families, and causes an estimated 115 deaths every day, nationwide. One problem law enforcement has in trying to curb drugged driving is that it is more difficult to detect than a person's blood alcohol concentration (BAC). While drivers in every U.S. state must maintain a BAC below 0.08%, it's harder to detect and test for certain drugs at the time of arrest. For instance, cannabis stays in the system for weeks, making it difficult to tell when the person who was arrested consumed the drug, should they test positive. Furthermore, the standard sobriety tests don't work for testing for drug impairment, as there is no breath test for drugs.
INJURED IN A DRUGGED DRIVING ACCIDENT? CONTACT CRANSTON & EDWARDS, PLLC TODAY.
We are dedicated to fighting aggressively for our clients. Drugged driving is extremely dangerous, and the person who caused your accident because of drug intoxication should be held accountable for the injuries and damages you have suffered as a result. Our Morgantown car accident attorneys are committed to seeking justice on behalf of our clients. Let us put our 50 years of collective experience to use for you so we can help you recover just compensation.
Cranston & Edwards, PLLC provides free case evaluations. Contact us today at (304) 296-3500 to learn more about how we can help you recover financial compensation after you were injured from a drugged driver.