According to the National Highway Traffic Safety Administration (NHTSA), West Virginia has more car crash fatalities than the national average, at 14.7 per 100,000 people, compared to 11.6 out of 100,000 people. Part of the reason is the state's mountainous terrain and winding rural roads, not to mention severe winter weather conditions at higher elevations. Rural roads can be just as dangerous as urban streets, because they tend to be narrower and do not get prioritized for maintenance. In fact, in 2017, 62% of all fatal car crashes in West Virginia occurred on a rural road.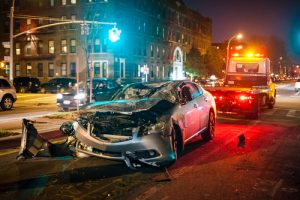 But the problem goes beyond rural roads and the state's bumpy topography. Experts say speeding and drunk driving on the state's rural roads are the primary reasons fatal car crashes occur. NHTSA also reports that one out of every four fatal car crashes in West Virginia is caused by a drunk driver with a blood alcohol concentration (BAC) of 0.08% or higher.
Kentucky is the only state surrounding West Virginia which also has fatal car crash rates higher than the national average, but the other surrounding states are lower than the national average (Maryland, Ohio, Pennsylvania and Virginia). Adding to the problem is the fact that 95% of West Virginian roads are maintained by state workers of West Virginia's Division of Highways, whereas surrounding states have shifted ownership of local roads to municipalities and counties.
Suggestions for improvements have been made by policymakers, including passing a $1.6 billion road bond in West Virginia to allow state workers to repave problematic surfaces and improve roadway signage to alert drivers of poor road conditions. While these improvements will take time, it is a step in the right direction, according to West Virginia delegates.
INJURED IN A SERIOUS CAR CRASH IN WEST VIRGINIA? CONTACT OUR MORGANTOWN LAW FIRM.
Are you suffering after a car crash caused by someone else's negligent or reckless conduct? We can help you seek justice. Don't hesitate to contact our West Virginia car accident attorneys, so we can start investigating your wreck and collecting relevant evidence for your personal injury claim. We can help you seek financial compensation for your injuries
Our Morgantown personal injury law firm proudly represents clients throughout the state of West Virginia. If you've suffered from a car wreck that was not your fault, you deserve justice. Contact Cranston & Edwards, PLLC at (304) 296-3500 today or contact us online for a free case evaluation.