Johnson & Johnson is a household name that is known for their Baby Powder products. However, 12,000 women have filed lawsuits against the company, claiming the talc in Johnson's Baby Powder caused them to develop ovarian cancer.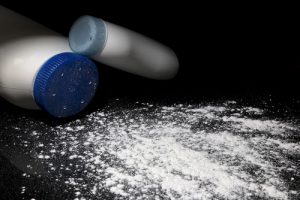 In July 2018, one of these cases argued that the talc contained in Johnson's Baby Powder was contaminated with asbestos. A jury agreed with the claims and awarded them $4.69 billion in damages.
Internal memos from the company show that it had been worried about asbestos in its products for decades. Although the brand had a renowned reputation for trustworthiness and health, behind the scenes, executives feared the possibility of a government ban of talc.
WHAT IS TALC?
Talc is a mineral that is found in clay mined from underground deposits. It is used to manufacture numerous consumer and industrial products. Like talc, asbestos comes from underground, and can often be found in talc deposits, which leads to the possibility of cross-contamination.
WHAT PRODUCTS ARE MADE WITH TALC?
Talc is often added to cosmetic products to make them feel silky and absorb moisture. The following cosmetics are made with talc:
Face Powder
Foundation
Eye Shadow
Lipstick
Mascara
Blush
Many food products also contain talc, such as:
Supplements
Pharmaceutical Pills
Chewing Gum
Polished Rice
IS TALC SAFE FOR MY BABY?
Pediatricians have warned the public of the dangers of using powder on babies for decades. Doctors worry that the child will inhale or aspirate talc, which can lead to serious respiratory illness or chronic disease and lung damage. However, these hazards do not have to do with asbestos. According to the American Academy of Pediatrics, talc is hazardous and has no medicinal value.
WHAT ARE SAFER ALTERNATIVES TO BABY POWDER?
Doctors recommend parents frequently change their baby's diapers. This will prevent rashes. Doctors also suggest using an oil-based ointment instead of talc. Cornstarch is another alternative that teenagers and adults can use on their dry skin to prevent chafing and irritation.
DOES THE F.D.A TEST TALC PRODUCTS FOR ASBESTOS?
Talc products were last tested by the F.D.A. in 2010. While the F.D.A didn't find asbestos in these tests, the agency was only given raw talc from 4 suppliers and tested only 24 commercial products. The talc that was analyzed by experts as part of the Johnson & Johnson lawsuit revealed traces of asbestos.
The F.D.A. also doesn't test cosmetics. While the agency claims it takes the possible presence of asbestos in cosmetics very seriously, manufacturers and marketers are ultimately responsible for the safety of these types of products.
Have you developed ovarian cancer after using Johnson & Johnson's Baby Powder? If so, you should get in touch with our defective product lawyers in Morgantown to find out if you are eligible for financial compensation. Call (304) 296-3500 to schedule a free consultation today.